1,000,000+
Downloads all around the world - and counting.

4.4 / 5
Average rating from 20,000+ ratings.

0
Items added worldwide since you came here.
Awesome features
These are the features that make Shopping List for Android so user-friendly.
Add items

Start typing the name of an item, suggestions will pop up and help you.

Mark bought items

Keep a simple overview of what you have already bought or put in the cart.

Easy sorting

Easily move items on the list using the drag&drop icon on the side.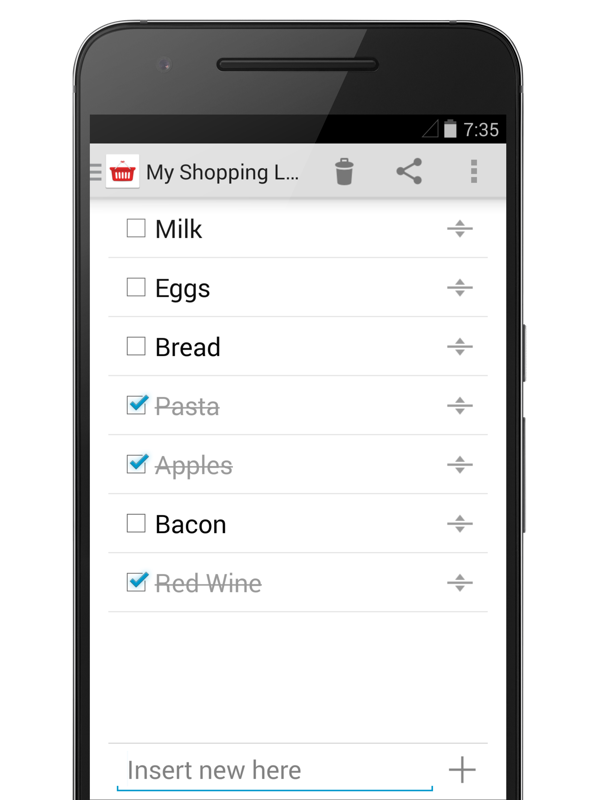 Multi-list

Create as many lists as you prefer and separate items by store.

Smart suggestions

The app learns your shopping habits and personalizes the suggestions for you.

Translated into 18+ languages

Missing a language? Help us translate the app here.
Testimonials
What users say about Shopping List on Google Play.
Quick, simple and easy to use I love this app. So many grocery shopping apps are way over complicated and slow. This app is quick, simple and anyone can figure it out.

Still love this app After a year+ I still love this easy to use and very handy app. I use it all the time for all my lists. Great tool for trying to stay organized!!

I have really bad allergies and impaired vision. It keeps up with my families constantly changing shopping needs, and my need for something big and easy to see and use!

I this app... it's my life I make lists for everything. Packing, moving, grocery shopping, meals, cleaning...but I always lose them...now they are! On my phone!
Get in touch
Missing a feature? Suggest an idea or vote for existing ones. Drop us an email, anytime. We would love to hear from you.